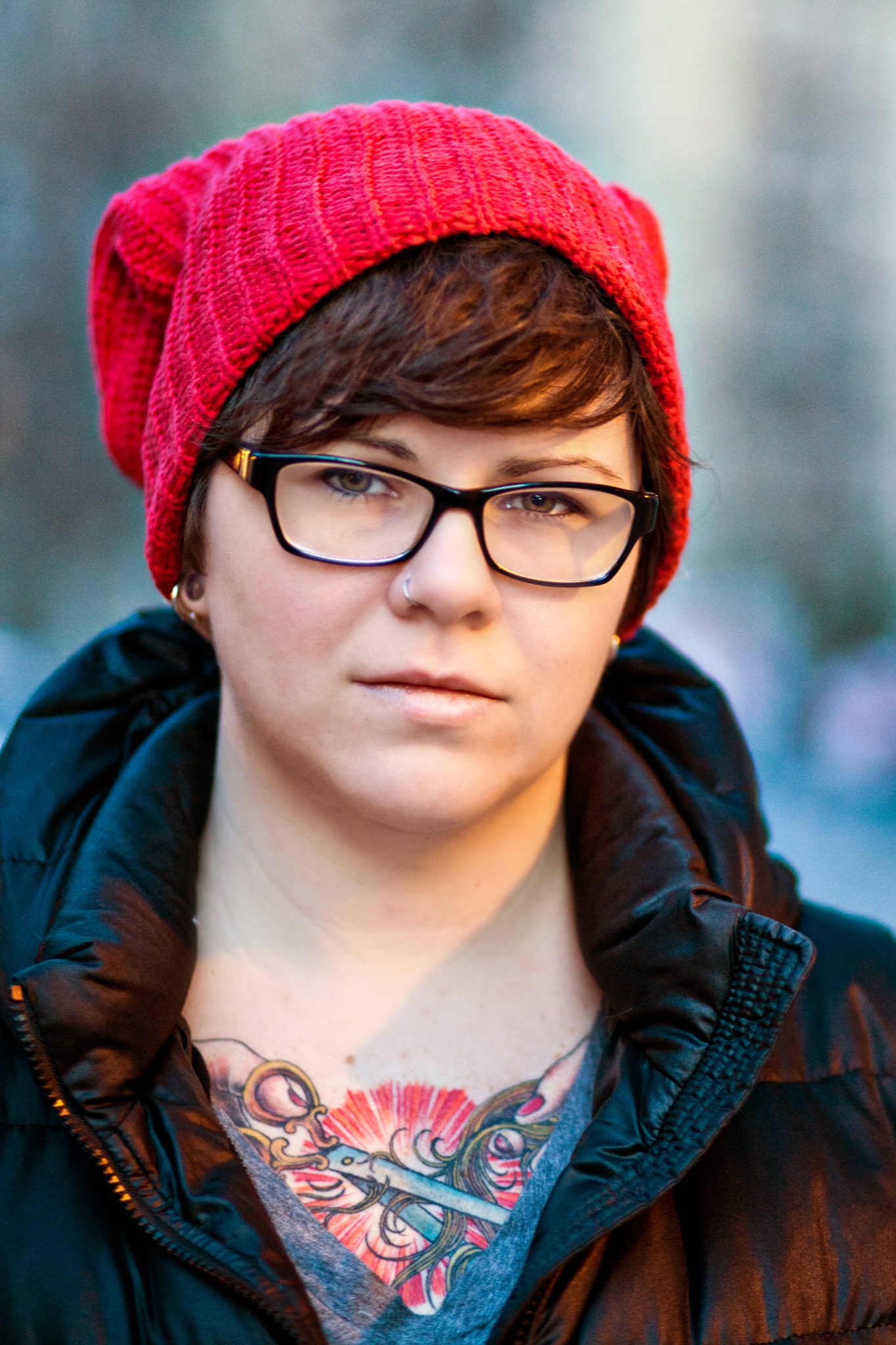 Dese'Rae L. Stage
is a suicide attempt survivor.
"I survived a suicide attempt."
My name is Dese'Rae L. Stage. I'm a photographer and writer in Philadelphia, PA. I am also the creator of Live Through This. I am 32 years old (*as of 2/23/16 update). The following is a piece I performed for a storytelling show called the Story Collider. Check out the full video at the bottom of this post.
I was diagnosed with bipolar disorder in 2004.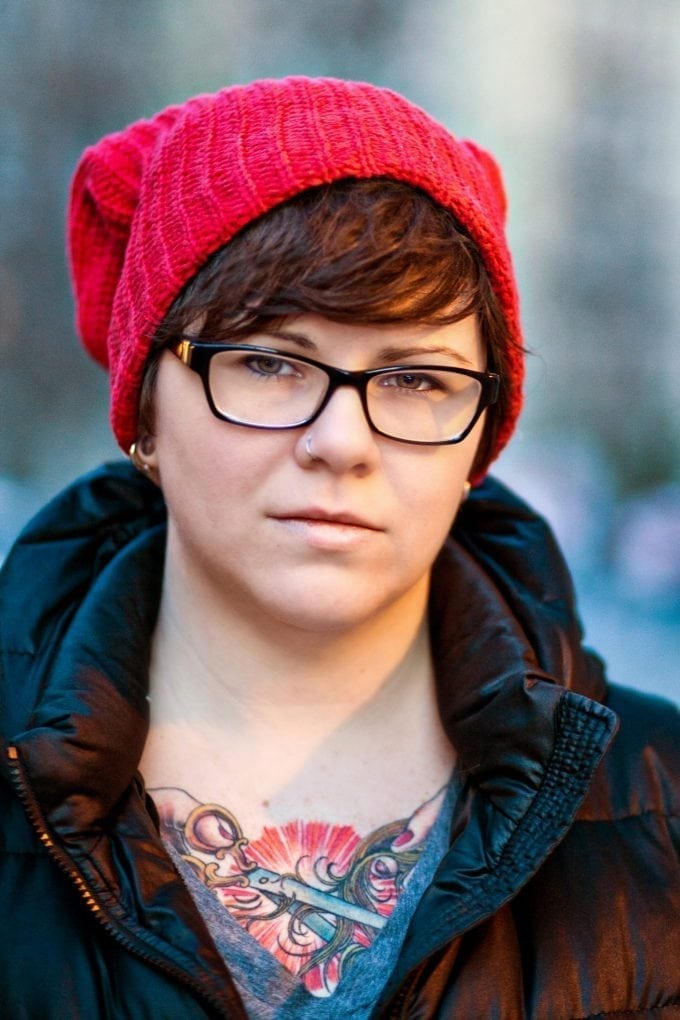 I'd already been mis-diagnosed with depression and fed a steady stream of antidepressants which did nothing but kill my sex drive and make me tired and even more depressed than when I started out. And I'd been cutting myself for nearly a decade.
I'd moved to Johnson City, Tennessee, to be with the girl who was my first real, passionate love. It was one of those whirlwind romances, but it was volatile too.
We went through the textbook progression of domestic abuse. First there were the threats, then she started pushing me (literally), then hitting me in places only visible beneath my clothes, and then it stopped mattering. No holds barred.
I'd give ultimatum after ultimatum, but I never followed through in leaving. I even bought a car solely for the purpose of escaping when the fights got bad—it seemed better than locking myself in the bathroom and hurting myself while she screamed and yelled and destroyed my things on the other side of the door.
It got to be too much, and on Halloween of 2005, I bought a bottle of vodka and planned to drink myself into oblivion before I got into that car to drive myself off of or into whatever bridge or ravine I could find. The thing that save me that night was that she came home before I thought she would.
The fights lessened in intensity for awhile after that. I was just about to graduate with a degree in psychology. I was waiting tables 30 hours a week, had a full course load, and spent that entire fall applying to Ph.D. programs. I kept myself busy, but my illness was getting worse, too. I had crappy insurance, bad reactions to meds, and no idea how to manage my symptoms. The fights got worse again, and I started hitting back this time. It made me feel like the scum of the earth.
The fights got worse again, and I started hitting back this time. It made me feel like the scum of the earth.
When I found out she was cheating on me that summer, I didn't take it well. I didn't know how to live with her, but I didn't think I could live without her, either.
We'd break up and get back together in this maddening cycle, and I'd come home and sit on the porch, crying and listening to the trains go by on the tracks behind our house. I remember writing, "I DON'T KNOW HOW TO DO THIS," over and over, page for page, in my journal. Everything felt fucking impossible and it seemed to me that it'd be a lot easier to die. I remember berating myself for not having the balls to lay down on those train tracks.
So, I guess it was no big surprise when I did finally try to kill myself. That night, she didn't come home, even though I begged her to. But she did call the police.
I remember them pounding on the door (it sounded like gunshots) and barging into my house. I was so hysterical I couldn't answer them when they asked my name. I had the wherewithal to call my mom, who gave them my information. When they put her back on the phone with me, she told me to go willingly. She told me to get myself out of that hospital as quickly as possible, to lie if I had to. She reminded me that having mental health issues on my records could ruin my chances of getting a job.
I remember that ambulance ride and watching the buildings pass me by. I remember the quiet. There were no sirens and no one talked to me, even though I'd calmed down. My next memory is of lying in the hospital bed and telling the nurse I was terrified of needles, which she disregarded as she gave me a tetanus shot, and then drew my blood. As she filled the vials, she laid them on my stomach one by one. They were so warm and the red so deep it was almost black. It turned my stomach. To this day, it seems like one of the cruelest things anyone could do in such a situation.
After that, I lied my way through the psych eval. "Me? Not suicidal, just lost my shit for a minute. I'm okay now. I just want to go home."
They released me to my friend, who left her own party to come get me. She brought another (sober) friend, who put me in the front seat of his tiny Audi which looked suspiciously like a space ship.
Before I left the hospital that night, I promised myself one thing: I was going to find a way to stop hurting myself.
By that point, I'd been dealing with depression and self-injury since my freshman year of high school, and I'd already lost a friend to suicide. He wasn't even a close friend, just someone I talked to here and there, but it affected me deeply. So, this was a topic I cared deeply about, even before it became a shame-filled memory.
I spent the entirety of my academic career trying to understand what drives people to want to die, and how to prevent it. The problem was that, nearly every time I brought it up to faculty members, the door would get slammed in my face. It was almost always: "You'll need to wait until you get to grad school for that. The topic is too sensitive for an undergrad to be taking on." It didn't make any sense to me. Suicide isn't a pretty topic, but someone's got to pay attention to it.
Suicide isn't a pretty topic, but someone's got to pay attention to it.
It's not that I got turned away by two or three professors, either. I fell in love a lot, so I attended five different undergraduate institutions, and I heard the word "NO" a lot.
The exception was Dr. Dula at East Tennessee State, my alma mater. He ran the Applied Psychology Lab, and he had this long hair that went down his back, but he wore a tie every day to teach. He was different. He'd been in construction for a long time before he decided to further pursue his education, and you could see that real world experience in his approach to academia. He ran his lab in such a way that anyone who was motivated enough could be doing research, and on any topic. He wasn't uptight, and he wasn't afraid of suicide.
My experience in his lab shored me up. It made me think that maybe I could do the work I wanted to. So I set about applying to Ph.D. programs with that in mind.
I ended up getting into a program back home in Miami. I knew who I wanted my advisor to be off the bat. This particular professor did research on risky behaviors in adolescents, mainly in terms of alcohol abuse. When it comes to suicide, alcohol abuse is a huge risk factors, so it made sense that he should advise me. I remember walking down the hall on the way to my first meeting with him and how nervous I was. I also remember how he shot me down. He said, "You know, maybe you should just work with some of my archival data."
And that was when I knew it wouldn't work.
The nature of bipolar disorder is a constant cycle of depression and mania. You can't get out of bed for weeks or months. And then, suddenly, you can fly. You've got all these ideas. You talk too fast, you never sleep, you're invincible, and you're no stranger to drunken one night stands. After my suicide attempt, I decided I would handle my mental health without medication—finding the right cocktail is more of an art than a science, and I was over it.
There was the depression. The lack of support in my program was crushing. I was still dealing with the breakup. I'd moved back to Miami for grad school, which I never really wanted to do, but I thought it would be nice to be closer to my family again. In the fall of that year, I lost one of my best friends.
And then there was the mania. One of the symptoms of a bipolar mania is reckless spending, and I had all this loan money just sitting in my bank account. So I bought a camera. I traveled to all the cities I'd wanted to see. and while all of this was happening, I fell in love with two things: NYC and that damn camera. I took it with me everywhere.
Another of the symptoms of bipolar mania is taking risks, throwing caution to the wind without any consideration of the consequences. By spring, I gave up on the program. I decided to quit and move to New York. All I knew was that this thing I'd been working toward for years of my life was the wrong thing, and nothing else really mattered.
I packed my car and started driving. I went to a Tori Amos concert one night a couple of months after I got here and made a friend who got me a job with a record label.
I started going to shows several nights a week, and I always took my camera. I really learned about photography by shooting musicians. People are constantly moving and the light changes every few seconds. You never know what to expect.
I did this for about three years before I started to figure out why it didn't feel quite right. I'd photographed and met most of my heroes. I had cool kid cred, but I wanted to be doing something good, something that would change the world in some small way. I was raised on the philosophy that you can do anything if you set your mind to it, and New York was proving that it was possible. Immediately, I returned to the thing I'd thought I would have to give up. I realized I could use my camera to achieve what I failed to achieve through science.
Immediately, I returned to the thing I'd thought I would have to give up. I realized I could use my camera to achieve what I failed to achieve through science.
I did some research. I Googled "suicide survivor," and what I found was people who had lost someone they loved, not people like me, who had tried to die and lived instead—people who were confused about what happened next, who felt so much shame that they couldn't talk about what had happened to them, people who felt misunderstood and alone. I didn't know what kind of language I should use to even try to find those people. There were no resources for attempt survivors. I decided that this was where I would focus my efforts.
What I learned was that most peer support groups for what we're now calling "loss survivors" exclude attempt survivors—there's a lot of anger and confusion there. If you've never felt a true depression, or that kind of despair with the tunnel vision that tricks you into believing that the people you love would be better off without you, it's a hard thing to wrap your head around.
The professional organizations had nothing to say about attempt survivors either, which struck me as odd—if you want to learn about suicide, why not ask the people who tried to kill themselves? You can ask why over and over, but the dead won't answer you.
We have a couple of suicide research rockstars, like Shneidman (the father of suicidology) or Joiner at FSU, but pure science isn't going to appeal to people who are just trying to figure out how to make it from day to day.
The few times attempt survivors were asked to lend their voices to the conversation, they did so out of anonymity because of a fear of stigma and shame. Worse, clinicians didn't want attempt survivors talking with one another. They thought we were dangerous, and that all we wanted to talk about was the best knot for a noose, or how you should go 'down the road and not across the tracks.'
I finally hit upon my approach: I would have attempt survivors tell me their stories and then I would make a portrait. Full names, faces, no anonymity.
We have a lot of ideas about what depression or other psychiatric disorders look like, but often they're not based in truth. As I mentioned before, a lot of people don't know what it feels like or even what turns life could take to get you to a point where you're suicidal, and we don't know how to talk about it because it's fucking scary.
I wanted to show people what we look like and how we feel, and I wanted to show other attempt survivors that they're not alone—that we're here, and that we shouldn't be ashamed, and that if we raise our voices loud enough, maybe people will start to understand that mental illness is the same as physical illness, maybe people will understand that just because it's in your mind doesn't mean it's worth invalidating.
I remember interviewing a friend of a friend early on. We both grew up in Miami, maybe a mile from one another. We went to the same elementary school, and even had some of the same teachers at different times, but we never met until we were introduced to one another in NYC. I remember listening and being struck by how her story was so similar to mine. The people I interviewed knew I was also an attempt survivor, but I hadn't shared my own story yet. I had this idea in my head that doing so would lessen the impact of the project, somehow. But in looking back, that's exactly the point.
Someone, somewhere will find this project, and they'll see a story that parallels their own, and they'll find strength in that. Maybe they'll share their own story with someone else, or they'll be less afraid to reach out to a friend they're worried about. Maybe they won't be so scared to just talk about it.
I've collected the stories and portraits of attempt survivors across the country, people just like you and me, and I'm finding that the louder I yell, and the more people I convince to yell with me, the more we inch toward breaking down those walls of stigma and shame, and the easier it becomes to just live through this.
Dese'Rae L. Stage shares the story of her suicide attempt, as well as how she came to pursue suicide awareness using art as a vehicle, for the Story Collider at Littlefield (Brooklyn) on 3/12/14. TRIGGER WARNING: Discussion of suicide, self-injury, domestic abuse, and related off-color jokes. Video by Aleksandar Cosic.