About
What Is Live Through This?
About
What is Live Through This?
About
What is Live Through This?
Established in 2010, Live Through This is a collection of portraits and true stories of suicide attempt survivors across the United States.
"Suicide" is a dirty word. It's a sin. It's "cowardly," "weak," and "selfish." It's a "permanent solution to a temporary problem." It's taboo. It's not an easy topic to discuss and because we don't know how to approach it, we either focus on the wrong things (like the gore, the sensationalism, the gossip), we poke fun and judge without compassion, or we avoid it altogether. The problem is that suicide, as the 10th leading cause of death in America, is a pervasive public health issue.
According to the CDC, 1.3 million Americans attempted suicide in 2016 (the most recent year for which we have data). Ninety percent of those people will go on to live out the natural course of their lives. Unfortunately, prior to a few years ago, suicide attempt survivors were an almost unilaterally anonymous group—millions of people shamed into silence and reduced to statistics, living in constant fear of prejudice and discrimination at home and in the workplace.
Media coverage and public attention typically focus on people who died from suicide, rather than those who lived to tell the tale, forfeiting an important opportunity to truly understand the complicated issue of suicide from a first-person perspective and build narratives of hope based on true-to-life experiences. Research tells us, however, that these stories are important: public attitudes change when people are exposed to those affected by mental health differences.
Live Through This fills that gap, reminding us that suicide is a human issue by elevating and amplifying attempt survivors' voices through raw, honest stories of survival, and pairing them with portraits of those survivors in the moments just after telling their stories—putting faces and names to the statistics that have been the only representation of attempt survivors in the past. It breaks stereotypes and cultural assumptions about those affected by displaying a depth and breadth of experiences of suicidality from Americans across the nation. It shows that suicide does not discriminate, but transcends categorization (like age, race, faith, socioeconomic status, sexual orientation, gender identity, or profession). It affects us all. Just take a look at the portraits.
Live Through This is the first known project of its kind, and the most extensive catalog in existence of stories of hope and recovery after a suicide attempt. Its mission is to change public attitudes about suicide for the better; to reduce prejudice and discrimination against attempt survivors; to provide comfort to those experiencing suicidality by letting them know that they're not alone and tomorrow is possible; to give insight to those who have trouble understanding suicidality, and catharsis to those who have lost a loved one; and to be used as a teaching tool for clinicians in training, or anyone else who might benefit from a deeper understanding of first-person experiences with suicide.
Live Through This has been featured by the New York Times, CBS Evening News, Associated Press, Upworthy, NPR, and more.
A Further Note to the Reader:
In my work with Live Through This, I intentionally set out to collect stories from suicide attempt survivors with a wide range of experiences, and to document their stories in a way that is honest and authentic to who they are. Our community has long been silenced and pushed to the margins; in recognition of that fact, my job is to hold space for survivors as they share, whether or not I agree with their perspective. I will also occasionally publish details from a survivor's story that are graphic and potentially triggering. If one of these stories makes you uncomfortable, know that it likely made me feel the same way. Live Through This is inclusive of every story I have collected (unless a survivor requests otherwise after I've conducted the interview). Ultimately, this collection of diverse voices illustrates that suicide can affect any of us—not just those we can imagine being our friend. Please read with care.
Who Is Dese'Rae L. Stage?
My name is Dese'Rae L. Stage. I'm a photographer, writer, and suicide education activist.
In December 2005, I completed my Bachelor of Science in Psychology at East Tennessee State University, where I was an undergraduate research associate in Dr. Chris Dula's Applied Psychology Lab and helped build a self-injury self-report measure. I'm trained in various crisis intervention techniques and volunteered briefly as a crisis hotline counselor and rape care companion at a local crisis center. I pursued psychology, with a specific interest in suicide research, all the way through to a Ph.D. program before realizing that I had no faculty backing for my goals. Suicide was still too taboo a subject, even for advanced graduate programs.
Instead of devoting years to a program that couldn't support my interests, I walked away. I moved to New York City. I got a job at a record label. I put my passion for suicide prevention down; I picked a camera up. I'm a self-taught photographer, and I spent years honing my technique by photographing—and later, interviewing—rock stars, from Tori Amos to Amanda Palmer to Jay Z and Sting.
Outside of my academic and professional pursuits, the truth is that I struggled with depression and self-injury for nine years before I survived a suicide attempt, catalyzed by an emotionally and physically abusive relationship. I wasn't treated very well by medical professionals in the hospital afterward, and struggled to find good treatment in the months after my attempt. I've lost friends to suicide over the years, too. I realized that these were all things I felt too ashamed to talk about, and things no one around me was talking about. There were no resources, either.
These experiences prompted me to take those skills I'd been building during my years in New York and make them count for something. I started working on Live Through This in 2010.
In the beginning, things moved slowly, but over the course of February 2013, ~600 people had enough faith in this project to donate $23,000 via Kickstarter, allowing me to take the project on the road and across the country. As of September 2017, I've photographed and interviewed nearly 200 suicide attempt survivors in 35 U.S. cities.
In addition to collecting stories and portraits, I speak at universities and events nationwide, telling audiences my story and how it led me to my work with Live Through This—I've even told my story onstage to a room full of science enthusiasts while violently ill! I give workshops on suicide safe messaging, social media (specifically, how I apply a social media strategy to Live Through This), and storytelling. I also educate journalists on best practices for reporting on suicide, as well as consult with members of the entertainment media on realistic, honest, and hopeful ways to portray suicidal characters in TV, film, and literature.
Live Through This is the largest catalog of suicide attempt survivor narratives in existence. I've partnered with researchers on a qualitative research program driven by and for suicide attempt survivors.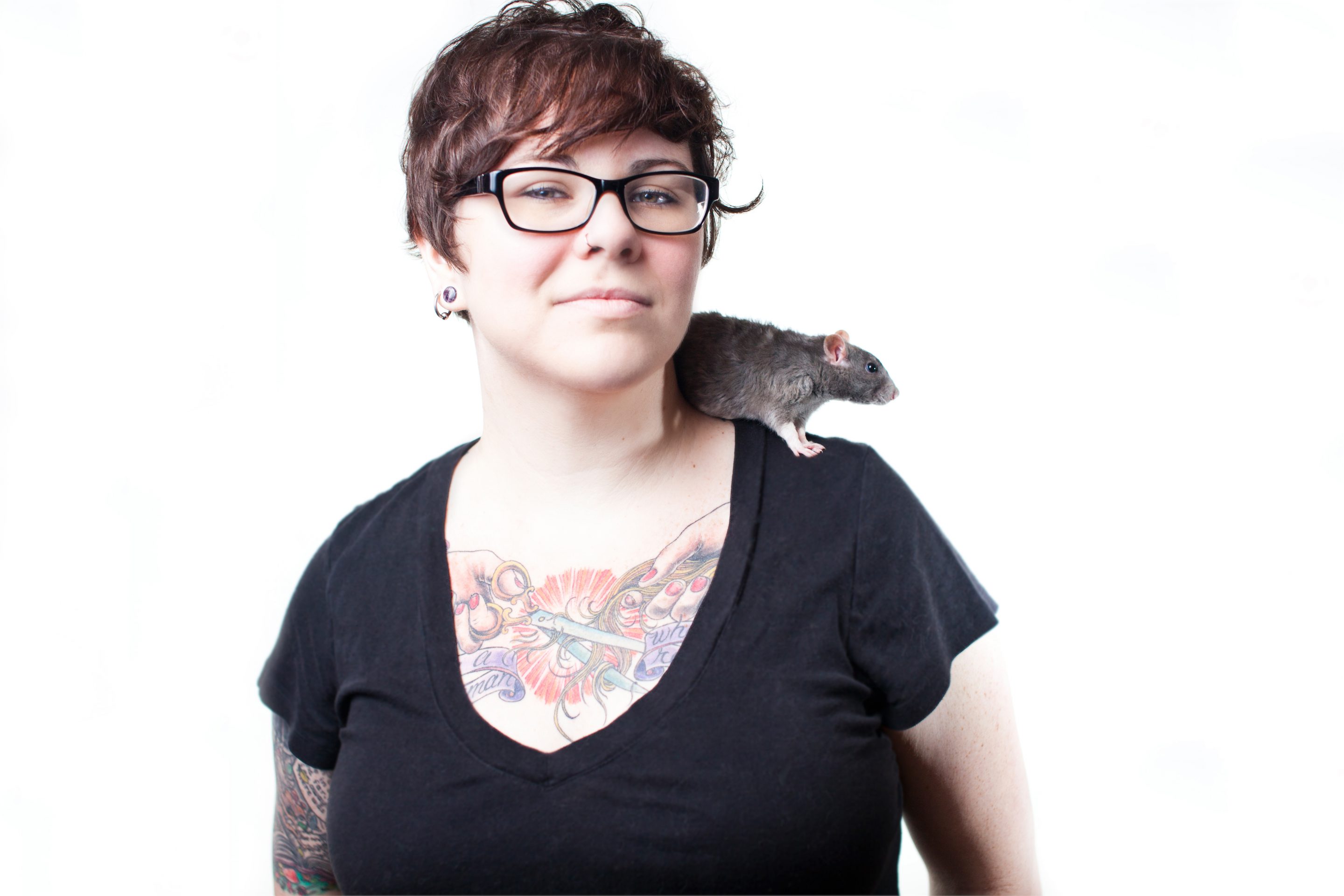 I've appeared on CBS Evening News, the Glenn Beck Program, Fox News, and BBC Radio. I've been published by Cosmopolitan, Huffington Post, and XoJane. I've received a SXSW Community Service Award, a SAMHSA Voice Award, the American Association of Suicidology's Transforming Lived Experience Award and first place in their Paul G. Quinnett Lived Experience Writing Contest, and Investigation Discovery's Every Day Hero award. I'm also featured The S Word, an upcoming documentary about suicide prevention advocates due out later this year.
As a person out in the world, I'm consistently drawn to good books, good coffee, clove cigarettes (I quit smoking, but damn, do they still smell good), typography, street art, and the long, drawn-out process of turning my own body into a quietly inked pictorial memoir. I have a dirty mouth. I believe in kindness. I love beer, and want to drink the funkiest sour or the most imperial of stouts. I live in Philadelphia with my wife (a fellow Miami native), our son, and a handful of furry creatures. I still struggle with depression and suicidal thoughts, but more often than not, I'm happy, I'm thriving, and I'm so glad I stayed.
You can see more of my work at deseraestage.com and you can download my full CV here.
PS: That is, indeed, a rat on my shoulder. Ratter Garcia, in fact. She left us in the summer of 2014. She was a great pet (rats are kinda like dogs—are you surprised?), and we miss her dearly. Got your attention, didn't it?