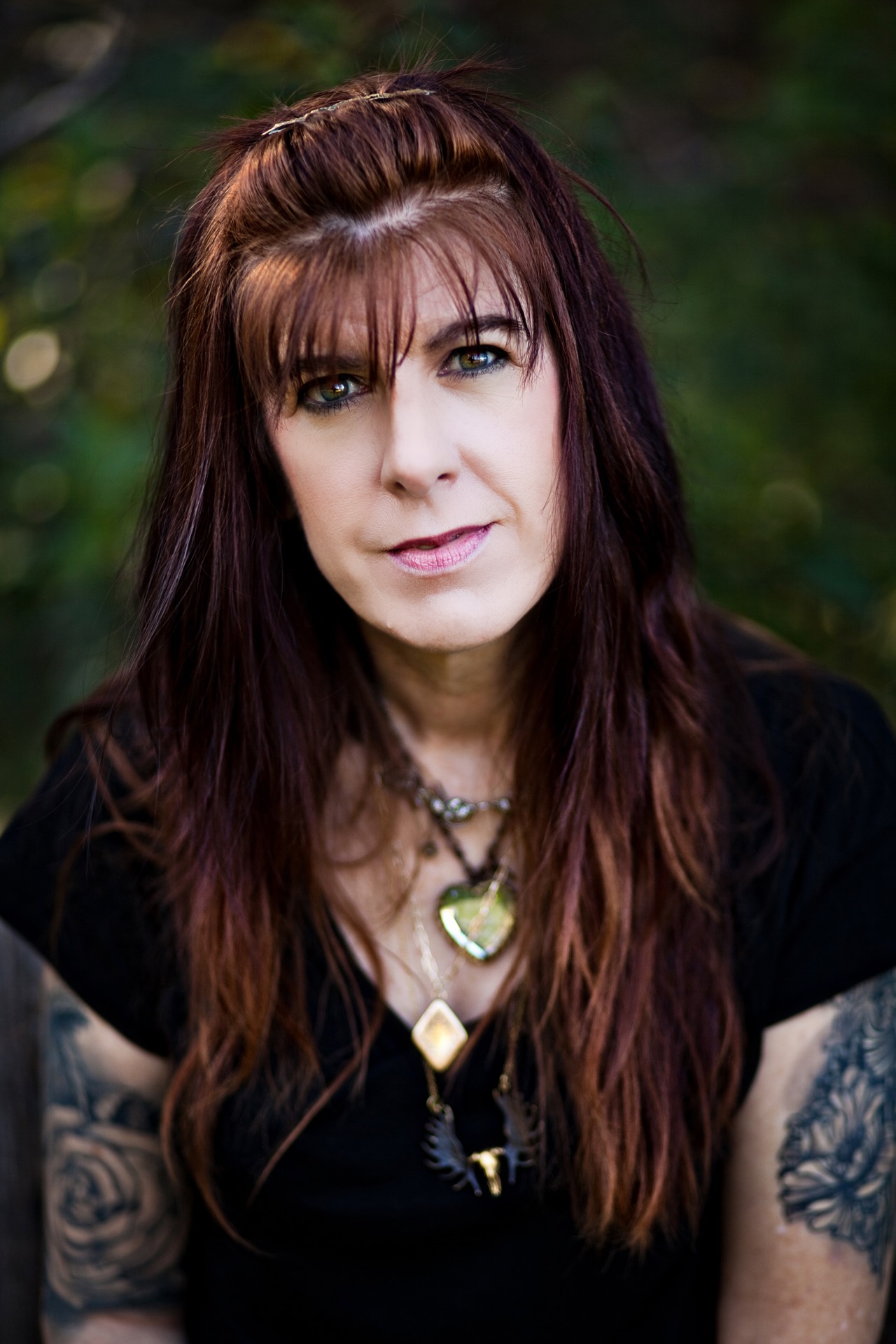 Brenda Hughes
is a suicide attempt survivor.
"I survived a suicide attempt."
Brenda Hughes is a mom on a mission of love. She was 50 when I interviewed her in Austin, TX, on November 29, 2013.
It's really weird looking backwards, because I used to be a schoolteacher, and I was sitting in the lounge, and there was this newspaper.
[I read about a crime], and people started talking about it, 'cause it was somebody local that this crime had happened to.
I remember reading it and I actually said out loud, "If that ever happened to me, I'd kill myself."
And it did. It did happen to me, later, and I did try to kill myself.
So, looking back on how I got here, there were all these incidents and lies and false beliefs that built up on it. I'm not one of these people who has a story of depression that's lasted their whole life. I couldn't relate to that. When I would hear, I would feel so bad for people who would talk about it, but I couldn't relate to it. Then, when I went into a depression, I was like, 'Whoa!'
I mean, looking back now, I totally know what that's like for your mind to be so skewed that you think it's logical to take your life.
Des: When was your attempt?
Brenda: It was in September of 2006, and I mean, leading up to that, I [thought I had worked through] the incident that had happened. It had been years before. But I met with a woman who had kind of gone through the same incident, and she asked me to tell about that. When I did, I started to cry as I told it.
She looked at me and she said, "You mean it's been all these years and you aren't over it?" Or something like that, and I'm telling you, I just took that shame and just started beating myself up with it to where it just sent me into this depression. I'm known as this strong person and a leader and all these things. So then there was all this shame over my depression. I didn't want anyone to know about it because I was so ashamed of it, and so I didn't necessarily tell people.
God, you feel like you're going insane. To want to die, to be that low, it's almost like you're possessed. I thought, 'What is going on? For me, this isn't normal. This isn't how I felt before. Go away. What can I do to make this go away?' And it didn't, and so I tried [to kill myself.]
It just got worse and worse, and I think I had so much guilt over not being able to pull myself out of it. The other thing is, because I am a Christian, there's this thing called legalism. Legalism is basically—like the Pharisees, where here's the rules and here's the laws that they've added onto the original—making people jump through hoops and things like that. I don't know how to explain this to you, just thinking about it. [Ed. note: more on legalism here.]
Basically, I was looking at myself as not being a good Christian because I couldn't get over it. There's a stigma with depression. In Christianity—I think it's gotten better, absolutely—there's this, 'Don't take medication, you should be able to pray your way through it,' [kind of mindset]…
There was this one scripture that said, "Brothers and sisters, I do not consider myself yet to have taken hold of it. But one thing I do: Forgetting what is behind and straining toward what is ahead, I press on toward the goal to win the prize for which God has called me heavenward in Christ Jesus" (Philippians 3:13-14). And I took that the wrong way. Somebody pointed that out to me afterwards.
I was like, 'Because I'm stuck in the past, because I can't get over this, I'm just a failure. I've failed God,' and all this stuff.
So, I basically went to this church that I was a member of in the middle of the night and sat on this bench by a pond and was like, "God, I'm sorry, I can't do this. I'm a failure. I want to come live with you."
Brenda: At first, I was very resistant to help because I was so terrified of visiting the pain that caused it. I felt like, if I went there, it would unleash this never-ending stream of pain. I canceled appointments. My pastor at the time was just very awesome and really wanted me to get help. He even kind of made a way for that to happen. I would be driving there, start to have a panic attack, and I would cancel. Then I finally did make it, and that was good. I needed to do that.
Des: Did you continue in therapy?
Brenda: Not as long as maybe other people did. I have to admit, there was a lot of stuff I did on my own—research and a journey that took me where I am today. But still, I got a lot out of it. The hugest thing that I got out of that—out of the counseling—I told her that I'd actually been through a lot in my entire life, not just that incident. I think that that incident was the catalyst to break open a bunch of things that have happened to me: being molested, being raped, being physically abused, domestic violence. You name it.
When I told her my story, she said, "You're really strong, even though you think you're not. I can't believe you didn't [attempt] suicide way before this."
When I tell people that, a lot of times they'll gasp and they think that's such a bad thing for her to tell me, but it wasn't, 'cause I was like, 'Wow, I really have been through a lot and have survived it.' But I was detached from it.
Other people could tell me the same kind of stories that happened to me and I would go, "Oh my gosh, let me help you."
[I would think], 'Oh, thank goodness I've never suffered from that,' but I had. There was some way I could just separate it…
I told her, "I didn't think I had a problem because, even though all these things happened to me and I've been through these horrific things… To me, I was okay, 'cause I didn't think of those things. You know the thing you see on TV where they're haunted by what happens to them and they think about it over and over? I didn't do that."
She said, "We used to think that. We used to think that's how psychology worked, that the problem was remembering. Now, it's not so much that you remember what happened to you; it's the lies you take away about yourself from what happened to you."
That was huge to me.
Des: Tell me more about how your faith played a role in all of this.
Brenda: Leading up to it, in a way, it was a negative because of how I had skewed what my faith really was saying. Basically, that's what is taught to you in the church and things like that. There's a lot of shame taught in the church.
When I looked into these things and had people come into my life who said, "Nope, that's not [it]," and just investigated on my own, then it was the thing that also was healing for me.
Des: Do you feel like there's a way that the church could change their teachings to be more open to mental illness?
Brenda: Absolutely. The churches are supposed to be there for broken people, but they can be a broken person's worst enemy. There's this thing of, 'We can pretend like we don't have problems because we're perfect Christians,' or things like that, and that's just such garbage. The Psalms are full of laments. The Psalms were the songs they sang. We look at the Bible, which has all these stories, horrific stories of tragedy and things like that and we just pretend. And people who've done bad things… I mean, my God. It was said about David—God said about David, King David—that "he was a man after my own heart," that "he had a heart of God." That's just amazing to me. He was a murderer and he was an adulterer and he actually faked mental illness for a while so that he could be safe, so that people would leave him alone. We've forgotten that mental illness is actually in the Bible and that it's something that we need to be dealing with.
Brenda: I don't know if I've brought this up, but my daughter was killed in a car accident—my oldest—two years ago this past May. I walked out of a church service once, just a couple weeks after she was killed, because the pastor mentioned somebody in the church's son was in a car accident, and if you saw the car, it's a miracle they lived. That God was with him. I had to leave. I just could not handle that. And I thought about why that bothered me. I've heard stories like that a million times. And I thought, 'Why do we have this idea, and teach this idea, that God's in all the butterflies and unicorns and rainbows, when actually God's in really'—I can't cuss, can I?
Des: Yeah!
Brenda: He's in really fucked up places. He's in really tragic places and dark places.
I thought, 'God was there when my daughter died.' Maybe even more so than the other one. I don't know.
I'm not gonna limit God, but we do that with mental illness. That's dirty. That's dark. So God can't be there. I can promise you he is. I can promise you he is.
Des: Do you talk about your attempt openly within the church?
Brenda: Yeah. Oh yeah. Oh, absolutely. I mean, everybody found out, you know?
I'll tell you one thing. I remember that I was asked to teach a class on prayer once, and when I went to teach it, I remember thinking, 'I don't want that to come up. I don't want that to always be the story identified with me.' But in order to teach that class on prayer—the specific topic they gave me—I had to. And it did come up. At the end of it, two people that I taught, came up to me.
One of them came up to me and said, "My brother is in the state hospital. He just tried to kill himself."
That meant so much to me, and I went to visit him. I ended up creating a bond with him…
This other woman waited until everybody was gone. She was probably in her fifties, and she just started crying.
She said, "I needed to hear this. You don't know what you've done for me."
She said, "For some reason, suicide runs in my family."
An uncle, her father… she had suicidal thoughts all the time. I didn't even know such a thing existed. All these people in her family [died by] suicide. So she felt like she was disqualified to do anything for God. A lot of times the church makes you feel like you're disqualified but if you read the Bible, that's not true…
So, the very time where I was like, "I'm not gonna talk about suicide," I did, and look. Somebody was sitting there with a brother who had just [attempted], and this woman who needed to hear, "It's okay, you can be used by God even though you've had this in your life."
Des: Is suicide still an option for you?
Brenda: I can't say that. I don't think that's realistic. I don't want it to be, but I mean… I never thought I'd get there in the first place, so how can I sit here and say that again? I highly doubt it because of what I've learned and the things that I've put into place and how I won't believe those lies again and things like that, but I don't want to sit here and say that because of the fact that I know I never thought I'd be there to begin with.
You can watch Brenda tell her story on the first episode of the Mental Health Channel's series The Common Good, below: