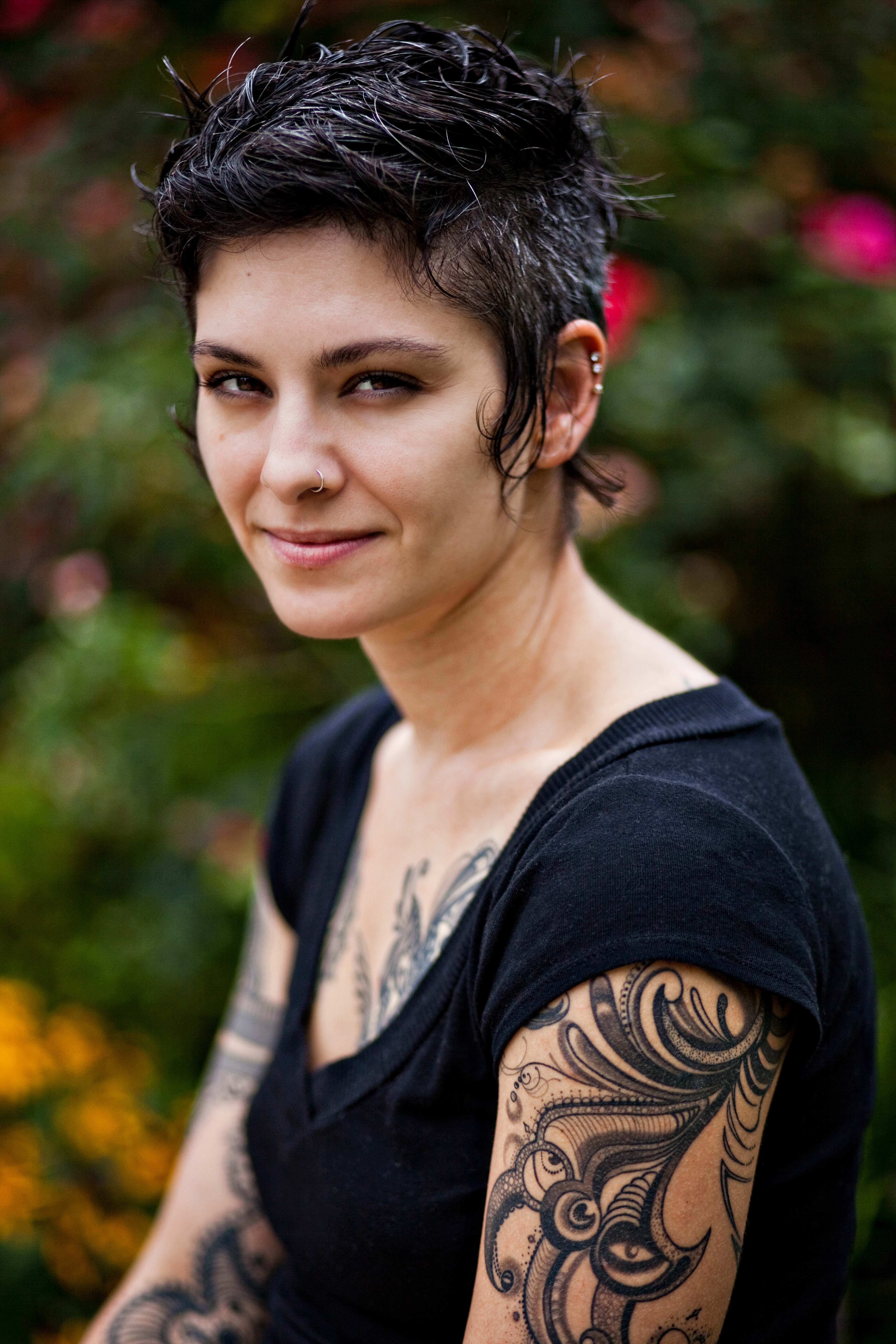 Eris Discordia
is a suicide attempt survivor.
"I survived a suicide attempt."
Eris Discordia is a web developer. She was raised in an adoptive family and, at 24, met her biological mother, Deni. They built a close relationship over the years. On October 2, 2012, at age 61, Deni died by suicide. Below, we talk about the aftermath of losing a loved one to suicide and the grief, even for a suicide attempt survivor. Eris was 37 years old when I interviewed her in Raleigh, North Carolina on August 19, 2013.
What happened with my mother is a perspective on the other end of the spectrum where you're like, "I will never do that to somebody. I will never put anybody through that, what she has put me through. I am so fucking angry."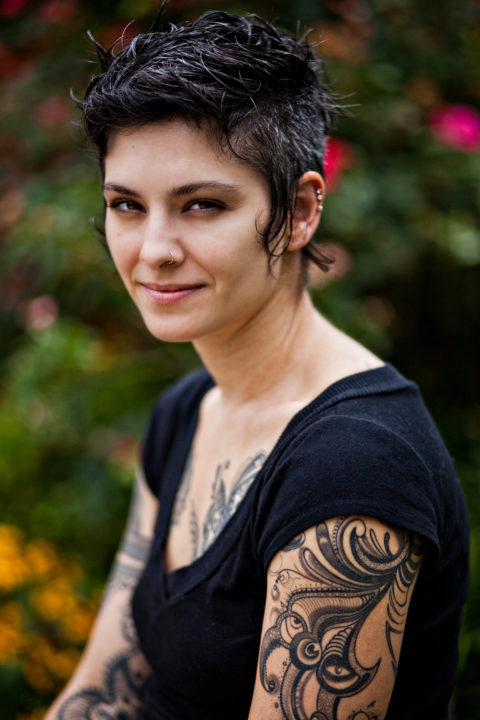 I mean, I've never been this angry. I don't know how to deal with the anger. I don't know how to deal with the mood swings. After you've been on that side of it—on both sides of it—you're like, "I will fucking never do this to anybody."
And I want to tell people, "You have no idea what I'm going through."
I'm a really pretty stable person despite this. I'm very even keeled. I'm very social. I'm happy generally… I am so fucked up now. This has fucked me completely up. I have these panic attacks where I get about a 20-minute window where I feel it coming on and my heart starts to beat faster and I start to feel nauseated, and now it's happened so much I recognize it. Then, all of a sudden, it's on the floor, crying fit, dry heaving, screaming and it's all like an epileptic seizure that I cannot control and I cannot get out of it. I've never experienced anything like this…
This kind of came out of the blue. She wrote me letters and they said, "I always knew this was gonna happen and I'm a failure and I destroy everything around me."
And I had no idea. Nobody had any idea. Her best friend who worked with her daily had no idea.
She had a book called "Final Exit," and shit was underlined in there and all that stuff. And, you know, we didn't find it right away but then it was where we would find it…
I believe in assisted suicide. I believe that we live–some of us who don't want to live this long live too long. There are people who just would rather just go to sleep, and that's okay. I think that that's okay. I think it's all about how you take care of those people and how you love them and you talk to them and you make sure that that's really what they want to do.
That book is for assisted suicide. It's for the terminally ill, so it's a dangerous book to be out, I think. At the same time, for the purpose that it's intended, it's very lovingly written and very–for its target audience, is wonderful. It's beautiful. It's… I get where you are and, here, let me help you through this. Don't be alone. Here's how you can get through this.
At the same time, the book has one paragraph in the entire [thing], in the back of it, devoted to, 'This book is for assisted suicide for the terminally ill. If you are just depressed, you need to talk to somebody or you need to consider the ramifications of what's going to happen to your family when you do this.'
There's nothing in there that addresses you and me, [who] are not terminally ill. That's my problem with the book. There should have been a big chapter. And I told the dude. I said, "I'll write that fucking chapter for you for the next version, but it needs to be in there."
Des: Yeah, I didn't know that it was written for the terminally ill. My understanding of it has always been it's got methodology for killing yourself. So, obviously, people have said that it's a very dangerous thing… but should that information be out there? For people who are not terminally ill? Where are the boundaries? …How should this work? Is this something that we could ever really legislate on? I mean, we can barely do that with 32-ounce sodas in New York.
Eris: Oh god, good point. But that is the case.
It's your life, you know. Let it be wholly yours, but also recognize that your life, in some ways, belongs to other people that have invested in you and love you and are sewn into you, and those people deserve to know if you're not gonna be around anymore.
But it's all that stigma… Can we just talk about it and let it be an okay thing to talk about?
Des: It's weird being on both sides, [having attempted suicide and having lost someone to suicide]. So, you have the guilt and the anger. Did you ever think that it was selfish?
Eris: Oh yeah. Absolutely. But I struggle with that too because I feel like, who am I to dictate that you need to stay here? It's selfish on both points. Who's more selfish, me or you? There's no way to reconcile those things. Any kind of closure has to be done on my own, by myself. I can't talk to you anymore. You're gone. And not only that, but just the added stresses that your family has to deal with when you do something like this to them is… it's been a disaster.
And then, I wanted everything. I wanted all the suicide letters. I wanted the photos that they took at the morgue, everything. I had to have everything. I said I want all the photos from the scene. I just had to have it…
I just voraciously read everything I could get my hands on. I wanted to read all of her Facebook messages… I know she had been flirting with a couple girls and I wanted to read all of those. And go back through everything she ever commented on and just try to… 'cause I got a different picture of her from her friends. I made dates to interview her friends. I'm like, "Tell me who this woman was when she was growing up, when she was my age."
I just missed out on so much. So, having that Facebook memorial is cool, 'cause when I need to yell at her, I go there and I just say whatever I feel like I need to say to her, and that's cool. It's comforting, and for some reason, that just works. She doesn't have all that many friends, so it's not that a lot of people see it, and I don't think she's connected to many of my friends, so I just say whatever I want to say.
Des: So, my question is taking you back to your own attempt– did you think about that?
Eris: Not at all. I wrote loving letters. I thought they might cry a little bit, but I never would have thought they would be devastated, completely fucking destroyed. And I just…I thought mostly about myself. 'I'm getting the fuck out of here.'
Des: And I feel like that's…it's almost impossible to actually really think about other people when you're there.
Eris: Yeah, yeah… I would have never have thought. Never. I never had an idea that I would have put people through this…
[I want to make people aware] that it's okay to talk about. I want it to be okay to talk about suicidal thoughts and for it to not be a stigma and,  automatically, 'Oh, you're mentally ill. Oh, she's crazy.' It can be part of casual conversation, like anything else that you want to talk about.
As I get through this, I want to be able to share with people how fucking traumatic it is to go through a suicide. People need to know. It feels like something that I have not heard much about… You need to know what it's gonna do to your family—really need to know. Let me tell you graphic information. Let me tell you about the dry heaving and the screaming, the screaming that just comes out that I can't stop, and I'm an okay person. I've never had this shit before. It has fucked my life up. And that's what you're gonna do to somebody if you do this. If you want to know, come sit. I'll tell you all about it. I will show you fucking pictures.
I don't know if that's the right approach. That's an angry approach, but I'm figuring it out. I feel like there needs to be also an awareness of the aftermath of what happens. You're gone, you're free, you got out of jail, and look at the fucking city blocks of waste that you left behind.